For who?
All women! More specifically: women with menstrual pain or other cycle disorders, endometriosis, fertility issues, recovery after birth, miscarredge or abortion, pregnant women (with slight differences), menopause.
What?
With a therapeutical group I mean women who come together for (more or less) the same reason. This group is always with the same people, to create a safe and trusting environment. It is also important that the sessions are repeated frequently, to be able to truly work on the problem.
Goal?
-To get to knowsome basics of traditional Chinese medicine
-To learn lifestyle tips to improve female health
-To know the whole serie of exercices of women qi gong, and to be able to reproduce it at home
-To learn the warm ups of the nei yang gong
Short version
The short version consists out of four sessions of two hours. Each session will be in symbol of one phase in the menstrual cycle. De main goal is to focus on the qi gong and self-massage exercices, so they can be reapeated at home correctly.
Long version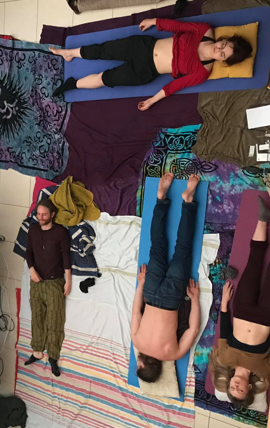 To participate on the long version, I ask a participation of 3 months. Usually, 3 menstrual cycles are needed to start to feel an improvement on menstrual problems. This is a way of working actively, by seeing eachother every week on a session. Most ideal is to repeat it every day at home.
This period also includes group acupuncture sessions. It is therefore recomended to book a private sessions of acupuncture beforehand. This will enable me to work on more specific points according to your personal inbalance. To know in which fase of the menstrual cycle you are is also important for that. If you don't feel comfortable with acupuncture, we can also use less needles, of only do ear acupuncture. I can also show you which pressure points to massage.
The repartition of qi gong/acupuncture sessions is up to the group to choose during the first session.
There are 12 sessions of 2 hours in a period of 3 months.
Price
There are tree price classes, depending on your income or possibilities.
Interested?
Don't hesitate to contact me if you have questions or if you are interested to participate. I can keep you updated when new groups will start. Do you already have a group? I can also come to you!